name: Created in Italy – An aptitude for the impossible
client: Ministero degli Affari Esteri e della Cooperazione Internazionale
curated by: Odo Fioravanti, Giulio Iacchetti, Francesca Picchi
exhibition project: Mario Trimarchi
graphic project: Mario Trimarchi
photo credits: Max Rommel 
digital design: propp.it
companies: Abet Laminati – ALPI – Brembo – Coex – Crea Concrete Design – Cressi Sub – Dainese – Directa Plus – Eumakers – Falci – Fizik – Fontana – Foscarini – GAM – Gemar – Grivel – K-Array – Kong – Landucci – Limonta – Magis – Nonino – Novamont – Omnicos Group – Pedrali – Petroceramics – Plastitalia – Springa – Tecno Tessile Adler – Terre Davis – Vibram
website: www.createdinitaly.it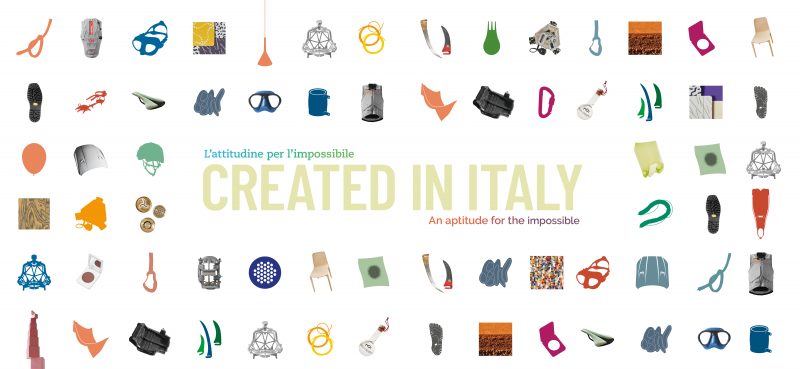 A project to tell the world about Italian design, technology and know-how
"Created in Italy. L'attitudine per l'impossibile" (Created in Italy. The aptitude for the impossible) is an exhibition conceived and designed to recount, through a sort of mapping of emblematic products and production realities, the manufacturing capabilities of Italian industries by isolating some of their characteristics, among which the aptitude to overcome every difficulty implicit in the realization of products with a high technological content, the constant tension for experimentation that pushes to force the limits of matter, the passion for beautiful things and the generosity in accepting challenges and in building "custom-made" products.
This exploration of Italian industry has the ambition of staging a passionate account of Italian savoir-faire in order to bring out, from the collection of individual stories, a fresco of typically Italian manufacturing quality by following the traces of its founding elements: creativity, innovation and design.
Stories of Italian factories
This exhibition, hosted in the offices of the Italian Cultural Institutes around the world, is a tool that aims to promote know-how so as to attract other creative minds. It's an opportunity to facilitate dialogue and collaboration between Italian and international companies, putting together a repertoire of perfectly successful episodes of research and development, pure oxygen for those looking for productive places open to meeting ideas that point towards innovation, bringing different economic systems to meet and exchange energies. And above all, an epiphany of beauty in its purest form is consummated: that which shapes things and productive gestures, giving them a profound sense that goes beyond the aesthetics of their physical part and expands to concepts of rightness – for the fulfillment of purposes – and justice – for the effects of building a better possible future.
Essay:
Designers, factories and the impossible
— Odo Fioravanti, Giulio Iacchetti